Bike Advice From the Pros
Bikes, Bikes, Bikes…and…The Bat Phone?
Monday March 17th 2014
1:00 pm MST (3:00 pm EST, 2:00 pm CST, and Noon PST)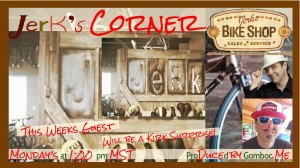 Watch Live on Google+: http://goo.gl/rtpSVS
Watch Live on YouTube: http://goo.gl/E6VuBS
Watch live on Facebook: http://goo.gl/GdsFb7
You never know who might show up in Jerks Corner…For that matter you never know if Jerks Corner will be in Jerks Corner.
If +Kirk Sherrod gets his way this weeks show is going to be HUGE!
This Weeks Guests:
+Adrian Palomeque Gives us Adrian's Answers
http://goo.gl/fOoPpe
This segment of the Murray Utah Cycling Hangout will help you learn how to care for your bike and maintain it. Adrian is the Mechanic at Jerks Bike Shop on State Street in Murray. He will cover simple things like cleaning your chain. If you are into riding bikes in Utah this section will help you care for your bike and give you a new appreciation of all that goes into proper bicycle maintenance.
This Hangout On Air is all about Biking in Utah. We try to make this HOA fun and different. One of the most entertaining things about this show is the use of the "Bat Phone" which Kirk uses to answer the questions and comments that come in from the audience.
Watch Live on Dennis Duce's personal blog: http://goo.gl/TG1Ign
Watch Live on Jerks Bike Shop Blog: http://goo.gl/gmffFW
Watch All of the Jerks Corner HOA episodes http://goo.gl/9mCimT
Each week  we bring in interesting people from the work of biking.
See the Blog on Jerk's Bike Shop Website http://goo.gl/GTkSN5
See the Blog on Gomboc.me website http://goo.gl/28zEBC
You host on this bike adventure is +Kirk Sherrod  owner of +Jerks Bike Shop   http://jerksbikeshop.com/
Thanks +DENNIS N. DUCE  and +GomBoc.Me  for producing this weekly "Hangout On Air In Real Life"
Kirk Sherrod on G+ http://goo.gl/M0QDmT
Jerks Bike SHop on G+ http://goo.gl/U4ghDU
Dennis N. Duce on G+ http://goo.gl/hMJHTa
Gomboc.me on G+ http://goo.gl/sGLrIv
#GetYourBikeOn   #JerksCorner   #JerksHOA   #BikeHOA  #GombocMe   #GombocD   #BikeForLife